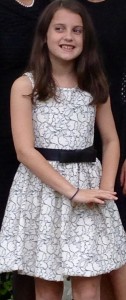 Nearly four years have passed since I coaxed Amanda to see her first Opera.  It was The Magic Flute composed by Mozart and performed at The Kennedy Center.  Amanda was eight years old at the time and quite skeptical about the whole adventure.  I bribed her with a dress from Needless Markup and a convincing argument that The Magic Flute was perfect for children, that she would be pleasantly surprised and it would begin her interest in this art form called Opera.
None of that happened.  While the melodic composition of Magic Flute is perfectly adorable and easy on the ear, the director always has the license to create whatever stage set up he or she wants and this director did exactly that.  Amanda couldn't quite get past the colors and scenery the director chose…all quite frightening for an eight year old.
The Magic Flute is a story about the Queen of Night who sends a prince (of course) to rescue her daughter who is held captive by a cult run by a high priest.  Once the prince is there and learns of the high ideals the high priest has, instead of rescuing the princess, he decides to join the community as well.  In order to be accepted, they both have to undergo a form of initiation.  Think of it as hazing.  Some things never change.  They succeed.  However, Papageno, who traveled with the prince failed all the tests.  Sometimes, in life you don't get what you think you must have but rather something better than you could ever imagine.
Many of us can relate to the character, Papagino, and how difficult it was for him to find love.  The coup de grace is when Papagina lets him know that she loves him just the way he is.
Think about that.  To be enough for someone just the way you are.
Amanda is now twelve and I asked her if she wanted to go to the Met and see Nabucco.  Placido Domingo was performing in the role of  Nebuchadnezzar and well, it is the Met, after all.  Surprisingly, she agreed.  It was a matinee and only three hours.  The music is lovely.  The story, easy to follow.  Halfway through the first half, Amanda fell asleep.  I was debating whether I should wake her up.  I chose not to.  The thought did cross my mind that her ticket cost me $241.00.  I didn't care.  Not really.  It was about the experience for her to be there.  I knew she would wake up.  And she did and stayed awake for the rest of the performance.  What was worth the $241 to me was the memory she would take with her all the rest of her life.  She heard Placido Domingo sing, she was introduced to the Met and all this with me, her Yaya Val.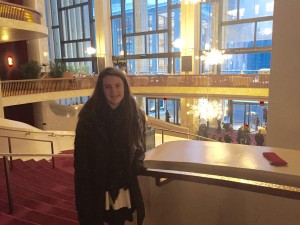 I will surely not be in her life forever and one day she will take her child or her beau to the Met and I hope she will say…"I heard Placido Domingo sing. It was here, at the Met, kiddo, with my Yaya Val.  He was something else.  She was too.
Amanda meets Opera.  Priceless.